Podomatic is a great platform to both stream, and download the mp3 so you can enjoy offline, whenever and wherever you wish.
 Mixcloud has an easy to navigate app, great for both iphones and android devices. Mixcloud also partners well with streaming services, such as Sonos.
For the latest #djrichiedon #February #Mix #2021 #Podcast #173: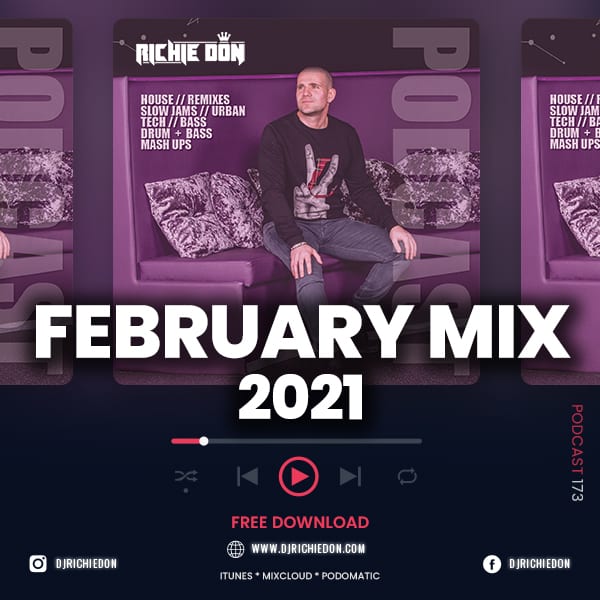 >> Feel Good Anthems // House // Mash Ups
Sunshine (The Light) – Anthem Kingz ft Fat Joe & DJ Khaled
Summer 91 (Looking Back) – Noizu
Body – Joel Corry Remix ft Megan Thee Stallion
Set U Free – Guz
No Diggity – Rogerson & Ray Montreal Remix ft Blackstreet
Morning – Karen Harding + Shift K3Y
Rather Be – Kevin D & Stavros Martina ft Clean Bandit + Jess Glynne
Groove Is In The Heart – Safety First! Remix ft Deee-Lite
Closer Than Close – Amy Lauren Remix ft Loud Music + Scott Garcia
Show Me Some Love – TRP ft Lauren Murray
All Stars Vs You've Got The Love – Brandon James ft Florence & The Machine
Calabria – Dor Halevi ft Enur + Natasja
Remedy – Try Harder Remix ft Kid Eternal
On The Beach – Kryder Remix ft York
Dancing To – Kurd Maverick
Gedifan – Honey & Badger x Movenchy
Sun Goes Down x Sweet Dreams – G Fire vs Cloone x Eurythmics x John Summit
Our House – Crazibiza + Cheesecake Boys
Stop It Without Me – Oddissic Mashup ft Eminem vs Fisher
This Lighter Girl – Discosid Mashup ft Nathan Dawe + KSI Vs Kungs
Yeah Vs Woken Minds – DJ Harry Dunkley vs Usher + Sam Supplier
Midas Touch vs Ultra Flava – Matt B vs Midnight Starr vs Heller & Farley
No! – BYOR Remix ft Cid
Return Of The Homeless Mack – DJJD vs Mr Belt & Wezol x Mark Morrison
Buss It – Yuki Remix ft Erica Banks
>> Urban // Slow Jams:
Best Friend – Spryte Transition ft Saweetie + Doja Cat
In Da Club – Tall Boys Best Friend Edit ft 50 Cent
Wanna Get To Know You – J Medina Remix ft G-Unit ft Joe
What You Know Bout Love – Mista Bibs vs Pop Smoke x 24KGoldn
Can't Let You Go – Mercmonk Sugar Free Hold Me Edit + Fabolous
Hey Mr. D.J. x Buzzin – RAYMOND Mashup vs Zhane x Mann
Better Love – Mo Eazy
Gettin' Jiggy Vs Hot In Herre – Glenn-D vs Will Smith x Nelly
Sound Of Da Police – Phibes Remix
Get It Poppin – Fresco vs Fat Joe ft Nelly
Move Young'n' Holla Back – Glenn-D vs Stefflon Don x Fabolous
Millions Buck Ransom – Matt B Flip Mashup vs DJ Russke Stardom + Jay1
So Pretty – Reyanna Maria
Ready – Fredo ft Summer Walker
Up – Cardi B
>> House // Tech //  Drum + Bass:
Your Love (9PM) – ATB ft Topic + A7S
Reach Up x Drinking From The Bottle – G Fire Mash Up vs Freejak + Tinie
Simon Says This Is How We Do It – DJJD vs Pharoahe Monch + R3WIRE
Turn Up Tipsy – Wilki-G vs J-Kwon X Marc Benjamin
Renegade Master – Deeperlove
Where's Your Head At – Audiorokk Where You At Edit ft Basement Jaxx
Back In Time – Myles Club Edit ft Martin Ikin
Josh Davids – Feel It
Mr DJ – DJ Dancer ft Luis Lee
The Real Slim Shady – Anthem Kingz Live Laugh Love ft Eminem
Free Your Mind – DJ Harry Dunkley Superstylin Edit ft Groove Armada
Gas Pedal Feeling Dynamite – DJ Inspire ft Sage The Gemini Vs Joe Stone
Type-A (Tetris) – Ziggy Remix ft Hirokazu Tanaka
NO1NO's – FREAK
Wanna Go Vs Milkshake – INDY ft Riot Ten, Charley Jordan Vs Kelis
Stronger Elephant – So Acclaimed Mashup ft Kanye West Vs Funkin Matt
Parade Freak – R3WIRE Mashup ft Joel Corry vs Fubu Tobtok + Kate Wild
Kickin Hard – DJ Kuba ft Neitan + Bounce Inc
Talk To Me – Biscits
ADHD – Phibes Bootleg ft Joyner Lucas & Logic
Øut Øf The Wørld – Marten Hørger
Lord & Master – Gentlemens Club Remix ft Apashe
Get the Fuck Up – Phibes
Stronger – Phibes
Hide Behaviour – So Acclaimed Mashup ft Kosheen Vs Danny Byrd
Just Dance – Bladerunner Remix ft Zed Bias + Inja
Drum & Bass Father Dubplate – Richie Don Frankenstein Mash Up vs Devilman.
Like these sounds? Check out the latest albums.
To download the mp3 file, for any of these podcasts – using the podomatic player below, click on the download icon next to the heart, and follow me buttons in the footer. Then you can take the podcast anywhere you go, just copy onto USB stick, SD card, or mp3 player – without eating up your valuable data. (best downloaded on computer / laptop)
Got an Iphone, Ipod or Ipad? Download the 'Podcast' app – search 'DJ Richie Don' in #Itunes and subscribe to receive future episodes automatically for free.
Checkout our latest products in the DJ Richie Don store!
Subscribe to the DJ Richie Don newsletter and stay bang up to date with the latest events, podcasts, live streams, free audio files and much more…