Here you can access all of Richie's latest Podcasts, just choose your preferred platform:
Download the podcasts 'app' via the app store. Search DJ Richie Don (or click here) and subscribe, to automatically receive future episodes first, for free.
Podomatic make it extremely easy to download the MP3 file to save onto SD card, USB or burn to CD. A great way to access the episodes without Itunes.
 Mixcloud has an easy to navigate app, great for both iphones and android devices. Mixcloud also partners well with streaming services, such as Sonos.
———————————————–
For the latest #djrichiedon #August #2019 #Podcast #154:
> CLICK HERE TO SEARCH & DOWNLOAD MP3 FOR ANY EPISODE <<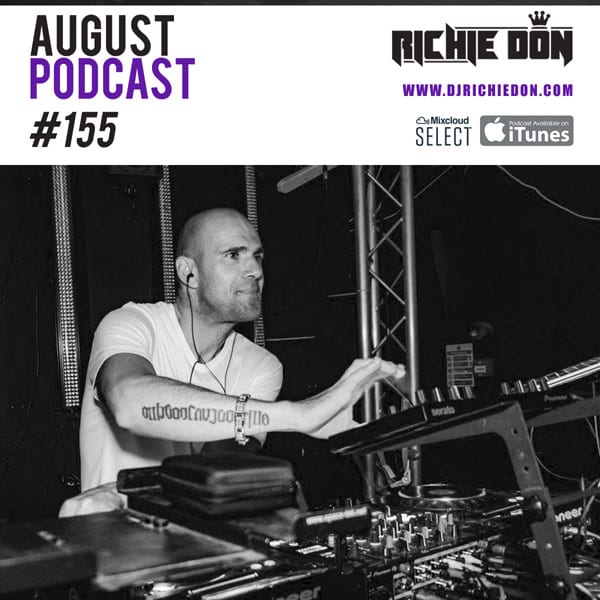 Stream this episode via Mixcloud:
Track listing and artists featured:
>> House : Chart : Future Anthems:
Back To You – One Bit ft Laura White
Waking Up – Cedric Gervais vs MJ Cole
All Day n Night – Axwell Remix ft Europa
My Love vs Ninetoes – The Stickmen vs Route 94
Sorry – Joel Corry
Strike A Pose – Callum Knight Remix ft Young T, Bugsey n Aitch
Piece Of Your Heart – Stickmen Remix ft Alan Fitzpatrick, Meduza That Sound vs Calabria – R3WIRE Bootleg vs DJ Zinc x Enur Freed From The Power – Joe Reece Edit – Gala, Blonde, James Hype SOS Del Mar Wish You Well – Discosid Mashup
Beautiful People – Jack Wins vs Ed Sheeran All Cried Out – Blonde Vs Joe Stone
Chunky Battle – Format B vs Riddim Commision
Saucin – Mad Teeth
Location – Star.One vs Dave n Burna Boy
Bruk Off Yuh Back – F#MAD x Games Silk x Konshens Skank – Fedde Le Grand
Killing Me Softly – SH8K Remix vs The Fugees Ladbroke Grove – F#MAD UKG Mash Up vs AJ Tracey Only Girl – Major Key ft Cairo
American Beardo – Lefthand Mashup Estelle vs Kanye
Knas – BROHUG Remix ft Steve Angello
Finally – CeCe Peniston vs Mark Jay vs Steff Da Campo
Options – Star.One Bootleg vs NSG
Poison – RIFFA Bootleg vs Bell Biv DeVoe
Kids – Global Deejays
>> Urban Soundtrack @ 46:45
The Partys Over Here – DJ Richie Don Dubplate ft Donae'O I Don't Care – Chronixx & Koffee Remix vs Ed Sheeran
Rude Boy x Strike A Pose – DJ Piddy vs Rihanna x Young T & Bugsey So High – Mist x Fredo
Time To Party – Mr. Vegas
Get Busy – Frequency X Toast Blend vs Sean Paul x Koffee One Dance – Mista Bibs Festa Skank Edit vs Drake x Lethal Bizzle Money In The Grave – MarkCutz Edit Drake ft Rick Ross Gucci Demon x Gimme The Light – B Young x Sean Paul Dilemma – Patrick Dyco 2019 Remix ft Nelly x Kelly Rowland Wiggle It – French Montana ft City Girls
Jump Around – Kris Kross Amsterdam Remix ft House Of Pain My One – Wiley ft Tory Lanez x Kranium x Dappy
Fashion Week – RAYMOND Edit vs Steel Banglez ft AJ Tracey, Mostack Wonderwall – Anthem Kingz Castaway Blend ft Oasis Castaway Remix – King Deco x Mr. Vegas
S.O.S – Matsu Lean On Blend ft Avicii x Aloe Blacc
>> Drum n Bass @ 69:45
Stand Off – DJ OneF vs Basstripper x Filthy Habits
Get Likes – Mollie Collins Remix ft Nancie Black Widow – Macky Gee x Iggy Azalea, Rita Ora
Fraudster – Filthy Habits
Noodle Bar – Basstripper
Dilemma – Sigma
Note: This episode contains explicit language.
Like these sounds? Check out the new CD's available now.
Got an Iphone, Ipod or Ipad? Download the 'Podcast' app – search 'DJ Richie Don' in #Itunes and subscribe to receive future episodes automatically for free.
————
#djrichiedon #podcast #jan #feb #march #april #may #june #july #august #september #october #november #itunes #december #mixcloud #podomatic #richie #don #house #garage #grime #bass #future #deep #rnb #dnb #bassbox #top5bangers #xmas #christmas #2018  #podcast #apple #music #radio #news #marketing #podcasts #listening #episode #house #bass #festival #urban #thanks #show #instapodcast #instalove #djrichiedon #mixing #pioneer #serato #djlife #facebooklive #seratodjpro #march