Here you can access all of Richie's latest Podcasts, just choose your preferred platform:
Download the podcasts 'app' via the app store. Search DJ Richie Don (or click here) and subscribe, to automatically receive future episodes first, for free.
Podomatic is a great platform to both stream, and download the mp3 so you can enjoy offline, whenever and wherever you wish.
Mixcloud has an easy to navigate app, great for both iphones and android devices. Mixcloud also partners well with streaming services, such as Sonos.
———————————————–
CLICK HERE to search the podomatic site to download podcast as mp3
For the latest #djrichiedon #November #2020 #Podcast #170:
#Covid-19 : CLICK HERE to visit the justgiving page and donate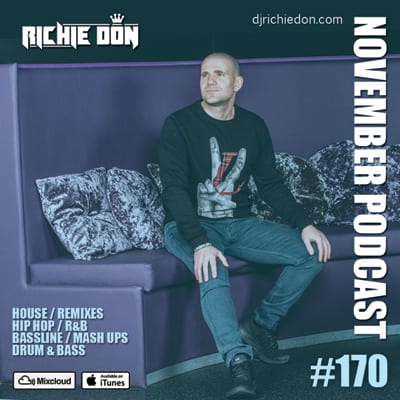 Stream this episode via Mixcloud:
>> House / Chart & Remixes @ 00:01:37
No More Chances – Wilson x ManyFew x Kelli-Leigh
Lemonade – Dubdogz & Watzgood ft Internet Money & Gunna
Lovefool – twocolors
Real Love – AJ Moreno ft Effie
Looking for Me – Paul Woolford ft Diplo + Kareen Lomax
Thin Line – John Summit & Guz
IC3 – Ghetts ft Skepta
Energy – Endor Remix ft Stace Cadet & KLP
Need You Tonight – Marãez Remix ft INXS
Grooves On The Vinyl – Gorgon City
Parrot – Oscar House
Take It Off – WILL K
You're Not Alone – Matt Nash
Devotion 2020 Remix – Bingo Players + Felguk & Fafaq
On My Mind – Diplo & SIDEPIECE
New Levels – Tobtok ft Milwin, Alfie Cridland + Mila Falls
Laugh Now Cry Later – Rivas Intoxicated Mix ft Drake + Lil Durk
Music Sounds Better With You – Tom Damage Remix ft Stardust
Love Rollercoaster – Les Bisous Remix ft Ohio Players
i miss u – Push3r Remix ft Jax Jones & Au/Ra
On My Mind – Jorja Smith X Preditah.
>> Urban / Hip Hop / RnB @ 00:36:48
Tick Tock VIP Remix – Beenie Man ft Konshens vs Clean Bandit
Who Needs Love – Tory Lanez
Princess Cuts – Headie One, Young T & Bugsey
I Like That – J Medina ft Houston, Nate Dogg, I-20 & Chingy
Case Of The Ex – DJ Serg Sniper Remix ft Mya
POV – Wiz Khalifa ft Rubi Rose
Stand Up – Fresco Remix ft Ludacris + Shawnna
Move – Stefflon Don
Loose – S1mba ft KSI
Always – Gaza Slim
20 10 20 – Burna Boy
Chanaynay – wewantwraiths
Medusa – GRiZ ft Wreckno
SLIME – Shygirl
What You Know Bout Love – Pop Smoke
Don't Be Dumb – Dizzee Rascal & Ocean Wisdom
3AM – Baauer, AJ Tracey + Jae Stephens
Body Loose – Dizzee Rascal.
>> Bass / Tech / Drum & Bass @ 01:04:40
Head & Heart – WeDamnz Remix ft Joel Corry + MNEK
Moving Blind – Sonny Fodera + Dom Dolla
Like That – Taylor Jaymin
Tornado – Volkoder & Sam Supplier
Among Us – BB GOAT
Threesixty – Bart B More
Repeat – Tsuki
Take A Step Back – Dr Fresch x Marten Hørger
Blessed – Maliboux Remix ft Buju Banton
In My Soul – Aspyer
Tokay – Alenn & Ruben Del Moral
10 Percent – NØ SIGNE
Baby It's You – DJ Zinc ft Andreya Triana
Rhythm Is Changing – High Contrast ft LOWES
Turn The Lights Off – Sub Focus x Wilkinson
Reason ft LOWES – The Prototypes
Electric – The Prototypes
Harmony – Benny Page Remix ft Origin8a & Propa
Passion ft Kudu Blue – The Prototypes
Rocket Guns Blazin' – The Prototypes
Over VIP – Tsuki
Spotlight – Tsuki.
Like these sounds? Check out the latest albums.
To download the mp3 file, for any of these podcasts – using the podomatic player below, click on the download icon next to the heart, and follow me buttons in the footer. Then you can take the podcast anywhere you go, just copy onto USB stick, SD card, or mp3 player – without eating up your valuable data. (best downloaded on computer / laptop)
Got an Iphone, Ipod or Ipad? Download the 'Podcast' app – search 'DJ Richie Don' in #Itunes and subscribe to receive future episodes automatically for free.
————
#djrichiedon #podcast #jan #feb #march #april #may #june #july #august #september #october #november #itunes #december #mixcloud #podomatic #richie #don #house #garage #grime #bass #future #deep #rnb #dnb #bassbox #top5bangers #xmas #christmas #2018 #podcast #apple #music #radio #news #marketing #podcasts #listening #episode #house #bass #festival #urban #thanks #show #instapodcast #instalove #djrichiedon #mixing #pioneer #serato #djlife #facebooklive #seratodjpro #march