Here you can access all of Richie's latest Podcasts, just choose your preferred platform:
Download the podcasts 'app' via the app store. Search DJ Richie Don (or click here) and subscribe, to automatically receive future episodes first, for free.
Podomatic make it extremely easy to download the MP3 file to save onto SD card, USB or burn to CD. A great way to access the episodes without Itunes.
 Mixcloud has an easy to navigate app, great for both iphones and android devices. Mixcloud also partners well with streaming services, such as Sonos.
———————————————–
For the latest #djrichiedon #October #2018 #Podcast #145:
>> CLICK TO DOWNLOAD MP3 FOR ALL EPISODES <<
or click on the image below to download the latest MP3: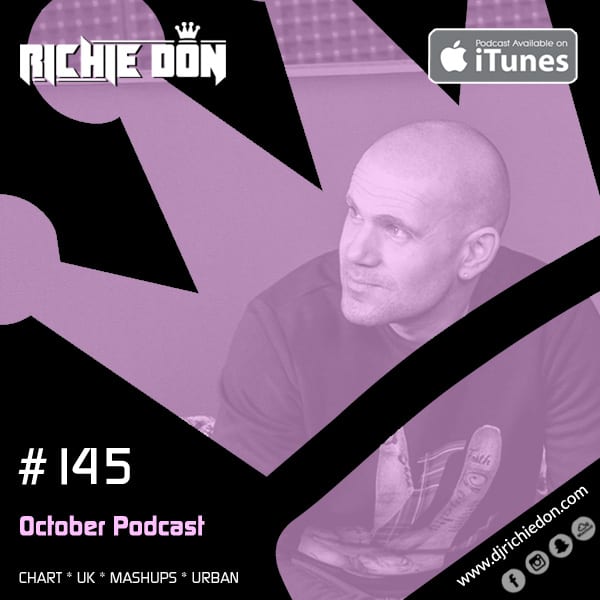 Stream this episode via Mixcloud:
Track listing and artists featured:
> House | Chart | Top 40:
Back n Forth – MK x Jonas Blue x Becky Hill
So Real (Warriors) – Too Many Zooz vs KDA + Jess Glynne
Promises – TRP Remix ft Calvin Harris + Sam Smith
One Shot – Alex Ross Remix ft Mabel
Cellphone – Tru Fonix Remix ft The Count of Monte Cristal
Finally – ITK Remix ft CeCe Peniston
Solo – Leandro Da Silva Remix ft Clean Bandit
Don't Stop 'Til You Get Enough – Safety First ft MJ
Just Got Paid – Sigala ft Ella Eyre + French Montana.
> RnB | UK | Rap | Grime:
LO(V/S)ER – AJ Tracey
Sicko Mode – Travis Scott
Nonstop – Drake
No Stylist – French Montana + Drake
Backin' It Up – Pardison Fontaine ft Cardi B
Money Right – Dizzee Rascal ft Skepta
Bebey – Theophilus London + Giggs
Glory – Ebenezer
Fall – Eminem
Taste – Mista Bibs B#tch Please Remix ft Tyga
Oh My – Dappy ft Ay Em
Energy – Skepta + Wizkid
Ay Caramba – Fredo, Young T + Bugsey
I Love It – Kanye West + Lil Pump
My Girl – Chip + Red Rat
Sugar Cane – Shakka.
> Bass | Mash Ups | Tech | Future Anthems:
Jook Gal – Kidd Spin Jook It Bootleg ft Elephant Man
I Like It Mash Up – Cardi B x Jay Z & Kanye West
Sweet Dreams 17 Mash Up – Calvo + Eurthymics Vs MK
Young – Purple Pelican Remix ft Jaded
Born Slippy VS In The House Mash Up – Underworld x FPB x OneF
Liquid Vs Rehab Mash Up – Amy Winehouse X Liquid X Brohug
Apache Wonderwall Mash Up – SHG x Sammy Porter x Oasis
Mrs Patterson – K & K
Ayla – PBH + Jack Shizzle
Crazy In My Club – Mash Up – Beyonce VS TT Project + Dave Bolton
Raveolution – Wh0
Runway – Duke Dumont
Satisfaction – Dunisco Remix ft Benny Benassi
Push The Feeling On – Alex Guesta + Nicola Fasano Tribal Mix
Put Your Hands Up – DNF + David Puentez
I Love It – KSWRT Remix ft Kanye West + Lil Pump
Bad n Boujee – Phon Losing It Bootleg ft Migos + Lil Uzi Vert
Can't Dance – R3WIRE Remix ft Kelli-Leigh + Art Bastian
Don't Leave Me Alone – R3hab Remix ft David Guetta Anne-Marie
Bassride – Afrojack
You Take Me So Far – Bakes
One Life – Southchurch
Sometimes The Going Gets A Little Tough – Finn
Outro.
Like these sounds? Check out the new CD's available now.
Got an Iphone, Ipod or Ipad? Download the 'Podcast' app – search 'DJ Richie Don' in #Itunes and subscribe to receive future episodes automatically for free.
————
#djrichiedon #podcast #jan #feb #march #april #may #june #july #august #september #october #november #itunes #december #mixcloud #podomatic #richie #don #house #garage #grime #bass #future #deep #rnb #dnb #bassbox #top5bangers #xmas #christmas #2018  #podcast #apple #music #radio #news #marketing #podcasts #listening #episode #house #bass #festival #urban #thanks #show #instapodcast #instalove #djrichiedon #mixing #pioneer #serato #djlife #facebooklive #seratodjpro #march