Here you can access all of Richie's latest Podcasts, just choose your preferred platform:
Download the podcasts 'app' via the app store. Search DJ Richie Don (or click here) and subscribe, to automatically receive future episodes first, for free.
Podomatic is a great platform to both stream, and download the mp3 so you can enjoy offline, whenever and wherever you wish.
 Mixcloud has an easy to navigate app, great for both iphones and android devices. Mixcloud also partners well with streaming services, such as Sonos.
———————————————–
CLICK HERE to search the podomatic site to download podcast as mp3
For the latest #djrichiedon #October #2020 #Podcast #169:
#Covid-19 : CLICK HERE to visit the justgiving page and donate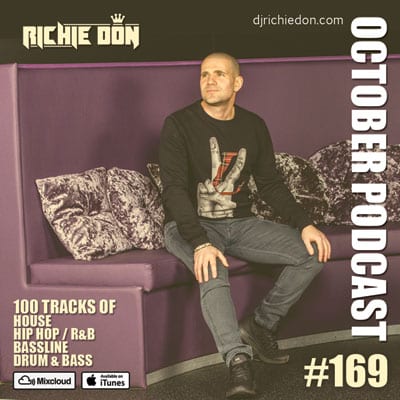 Stream this episode via Mixcloud:
>> House / Chart / Mash Ups @ 00:01:37
More Life – Torren Foot ft Tinie & L Devine
Afraid – James Hype ft Harlee
Freak Like Me – Fubu & Tobtok ft Kate Wild
I Feel Love – DM Slides
In My Arms – Billy Da Kid
Left & Right – King Arthur & 22Bullets
Temperature x Exceeder – B-Phisto Bootleg ft Sean Paul vs Mason x UMEK x Mike Vale
Get Down – Chico Rose RMX Steff Da Campo & Dave Crusher
Better On My Own – R3WIRE Remix ft Jack Rose & SK
Ruffneck – Freestylers ft Navigator
Bound 4 Da Reload – Joshwa Remix ft Oxide & Neutrino
Get Up – Block & Crown x House Of Pain x AWB
Head & Heart – Jack Back Remix ft Joel Corry ft MNEK
What is Love – Sak Noel & Salvi Remix ft Haddaway
Pump Up The Jam – Craig Knight Remix ft Technotronic
Lighter Friends – Lee Morrison Mashup ft Nathan Dawe & KSI x PS1, PBH & Jack
What's Luv – Freejak Remix ft Fat Joe & Ashanti
Pure Water – HWRD x JAXX Remix ft Migos
Loose Darlin – DJJD Mashup Tom Zanetti x S1mba Ft KSI
Step It Up – Armand Van Helden & Riva Starr ft Sharlene Hector
Who – Zack Martino Remix ft Tujamo & Plastik Funk
OK Not To Be OK – FINLAY C Remix ft Marshmello & Demi Lovato
Let Me Think About It – Sansixto Remix ft Fedde Le Grand & Ida Corr
Return Of The Mack – Camilo Do Santos Remix ft Mark Morrison
Homeless – Mr Belt & Wezol
Tell Me Why – Dougal Breaks Remix ft OutCry
Faith – Tchami ft Marlena Shaw
Dirty Hanging Tree – So Acclaimed Mashup ft Hanging Tree Vs Tom Zanetti & Ko Kane
Swing My Way – Alex Simmons Remix ft K.P. & Envyi
Renegade Master – Kealen Remix ft Wildchild
That's Right x Bug A Boo – R3WIRE Mashup ft Redux Saints x Destiny's Child
F2020 – Billy Da Kid Remix ft Avenue Beat
Lies – Steve Aoki & KREAM
Me & U – Majestic ft Kelsey
California Love x Time – Danny Diggz Bootleg ft 2Pac + Kryda & Dwight Steven
Habits – Audiorokk Shed My Skin Edit ft Tove Lo
Anyway – KC Anderson
Like This – DubVision
Feeling Right – BYOR
Do It To It – Kyllow Remix ft Cherish ft Sean Paul
Praise – Black Caviar
Same Things – Cassian ft Gabrielle Current.
>> Hip Hop / RnB @ 01:13:17
Ye Gabryelle – Glenn-D Mashup ft Burna Boy x D Malice
Santos Party House – Smoke DZA, Wiz Khalifa & Curren$y K.R.I.T. & Girl Talk
Miss Me – MoStack ft AJ Tracey.
Found You – Ludacris ft Chance the Rapper
Dinner Guest No Time Outs – Glenn-D Mashup ft AJ Tracey, MoStack x Baby Bash
ZEZE vs The Church To The Palace – Glenn-D ft Kodak Black, Travis Scott, Offset + Snoop Dogg
All Star – D'Maduro Remix ft Smash Mouth
UFO – D Block Europe ft Aitch
Sweeterman – DJ Baysik Moombahton Remix ft Drake
Drogba x Rover – DJ Piddy Mashup Afro B x S1mba
Jam x Rockstar – DJ Wood Blend – Post Malone ft 21 Savage vs Damian Marley x Ini Kamoze
Down On Me – Jeremih ft 50 Cent
Holy – Lil Wayne
WAP – A-Smooth Multi Blend ft Cardi B ft Megan Thee Stallion
Woi – Mista Bibs Wo Wo Wo Mashup ft Digga D x Krept & Konan
Don't Stop – Megan Thee Stallion.
>> Bass / Energy / Club Style @ 01:38:40
Show Me Love – Sikdope
Hands Up – Sean Finn, DJ Wady & MoonDark
The Raver – Milk Bar & F3d3 B
Bring Em Back – Jauz & TYNAN
Crazy My Love – R3WIRE Mashup ft AnimaTe x Route 94 & Jess Glynne
Piece Of Your Heart – Shnaps & Kolya Funk Audio Killers ft Meduza ft GOODBOYS
Roll It – Tough Love Remix ft Lady Bee + Tima Dee
Don't Stop – Lodgerz & Corx
I Am Ready – MARTEN HØRGER
Rave Grenade – Apollo
DOWN – VIP Remix ft Dipha Barus & CADE
Soul Sacrifice – Javier Penna Remix ft Dombresky
Billy Drumz – Luca Debonaire
Flavours – Deniz Koyu & NØ SIGNE
Mundian To Bach Ke x In The Dark – Kastra Bootleg ft Panjabi MC x Jasted, Castion & Vovich
Pump It Up – Jayrob Show Me Edit ft Endor
Rhythm Of The Alibi – Christian LaGrotteria Bootleg ft Corona vs Keanu Silva
Everyone – Volac
Take Me High – Marten Horger
Suerte – Raffa FL
Congratulations x 40 – Danny Chris & OneF Re-Edit – Post Malone x ELYX
Put It On Me – Holy Goof & Notion
Burning – NOTION
Synopsis – WA-FU & Interupt.
>> Drum & Bass @ 02:09:17
QUANTUM – The Prototypes
Tap Ho The Next Episode – Richie Don Mash Up Vs AMC vs Dr Dre
0 – 100 vs Heist – Richie Don Mash Up vs Drake
Home Pussy Flava – Richie Don Mash Up vs D Block
It's a Gee Thing vs TASTE – Richie Don vs Aitch
Soul Shake vs This Is Why Im Hot – Richie Don Mash Up
Ready Or Not Here Comes Missy – Richie Don Mash Up
Rockafella Fight Music – Richie Don Mash Up
Reach Up = Push The Feeling – Richie Don Mash Up
Vossi Bop Shag's – Richie Don Mash Up
1991 – No Games – Richie Don Mash Up.
Somebody Else's Guy – Stephen Nicholls F.t J.N.E
Outro.
Like these sounds? Check out the latest albums available now.
To download the mp3 file, for any of these podcasts – using the podomatic player below, click on the download icon next to the heart, and follow me buttons in the footer. Then you can take the podcast anywhere you go, just copy onto USB stick, SD card, or mp3 player – without eating up your valuable data. (best downloaded on computer / laptop)
Got an Iphone, Ipod or Ipad? Download the 'Podcast' app – search 'DJ Richie Don' in #Itunes and subscribe to receive future episodes automatically for free.
————
#djrichiedon #podcast #jan #feb #march #april #may #june #july #august #september #october #november #itunes #december #mixcloud #podomatic #richie #don #house #garage #grime #bass #future #deep #rnb #dnb #bassbox #top5bangers #xmas #christmas #2018  #podcast #apple #music #radio #news #marketing #podcasts #listening #episode #house #bass #festival #urban #thanks #show #instapodcast #instalove #djrichiedon #mixing #pioneer #serato #djlife #facebooklive #seratodjpro #march