Here you can access all of Richie's latest Podcasts, just choose your preferred platform:
Download the podcasts 'app' via the app store. Search DJ Richie Don (or click here) and subscribe, to automatically receive future episodes first, for free.
Podomatic is a great platform to both stream, and download the mp3 so you can enjoy offline, whenever and wherever you wish.
Mixcloud has an easy to navigate app, great for both iphones and android devices. Mixcloud also partners well with streaming services, such as Sonos.
———————————————–
CLICK HERE to search the podomatic site to download podcast as mp3
For the latest #djrichiedon #July #2020 #Podcast #166:
CLICK HERE to watch Live Streams on Facebook <
#Covid-19 : CLICK HERE to visit the justgiving page and donate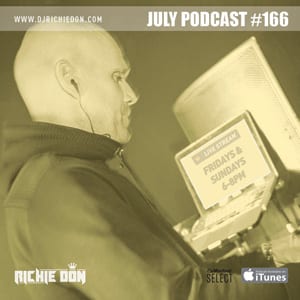 Stream this episode via Mixcloud:
>> House / Chart / Mash Ups @ 00:01:38
Tainted Love – BK298 Remix ft Susie Vanner
Come Together – Franky Wah
Again – Redlight Remix ft Clipz, Ms Banks Ms Dynamite & Jaykae
Don't Talk – Malaa
Back To Funk x Alright – Rhvthmz Mashup Electricity x Renegade Master
Whoomp! – Superlover
Something In Your Eyes – Rick Live ft Shelley Nelson
Summerjam 2020 – Renomty, Gregoir Cruz + The Underdog Project
Can't Hold Us – Kealen Remix ft Macklemore, Ryan Lewis + Ray Dalton
Get Ready For Too Many Man – DJJD Mashup vs 2 Unlimited x Boy Better Know
Living Young – Chris Decay + Re-Lay
Fine On Fire – DTM Mashup ft Mary J Blige x Wideboys
Lift Your Energy – Eden Prince
Hypnotize – Used Disco + Earth n Days
Fly Bi Freak Like Me – Glenn-D Mashup vs Teebone, MC Kie, Sparks x FUBU & Tobtok
Papa's Got A New Bag – Harry Tremlett Remix vs James Brown
Get Ready To Pump It Up – DJ Triple J Mashup vs Danzel Vs 2 Unlimited & Colin Jay
Dirty World Hold On – DJ OneF vs Bob Sinclar x Nigel Dope x Akhmetoff
California Dreamin' – Lincoln Baio vs Keanu Silva vs The Mamas + The Papas
The Fire – Armand Van Helden + Kideko.
>> Hip Hop / RnB @ 00:36:36
Ride Or Scrubs – DTM Mashup vs TLC x Megan Thee Stallion
Like Them – Ben Tiger London Mashup vs Aitch x AJ Deno
Tap In – Greg Lassierra Remix ft Saweetie
Stronger – Jurri & Tony & Mattia Remix vs Kanye West
Rover x Drogba – DJ Denz Mashup vs S1mba x Afro B ft DTG
Numb Encore – Enaye Moombahton Anthem 2020 ft Linkin Park + Jay Z
Don't Rush Remix – Young T, Bugsey + DaBaby
That's My B#tch – DJ Bizzon ft City Girls
Girls In The Hood – DJ Serg Sniper ft Megan Thee Stallion
Bombastic – Kevin D + Stavros Martina ft Shaggy
Catch Me Outside – B Young.
>> Club Style / Future Bangers / Energy @ 00:50:50
Music Is The Answer – TRP
Felt Cute – Le Cheval
Right Now – Joe Reece Mashup vs Akon + Joe Stone
Leave The World Behind x Nothing Else – Switch Disco vs SHM X Joe Stone
Wannabe Vs Superstar – TMU Mashup vs Spice Girls Vs Joe Stone
You Little Drum & Bass Father – DJ Richie Mashup vs Fisher Vs Devilman
Honey – Eats Everything
West Ten – AJ Tracey + Mabel
Smack That – DJ OneF Bootleg vs Akon x Henry Fong x ETX + Fresco
Dude – Major Key Remix ft Beenie Man
Passion's Not Right But It's Okay – Dave Bolton ft Whitney Houston Vs Gat Decor
Cola – DJ OneF Re-Edit vs CamelPhat + Elderbrook x Edo + Vasiliy Arefiev
Blinding Lights – Chunky Dip + Jesse James More Than You Know Edit ft The Weeknd
Fresh Celebrity – DJJD Mashup vs FooR x Twista
Good Time – Zookëper + Reebs
Dinner Date – Freejak Remix ft AJ Tracey + MoStack
I Remember – Kidd Spin You Used To Hold Me Edit vs Chris Lake ft Xaviera Gold
Born Again – Tchami
Heads Will Roll – Kubi Remix ft Yeah Yeah Yeahs
Stand Up – AC Slater
Rockafeller On My Mind – Dave Bolton vs Fatboy Slim Vs Diplo x Sidepiece Vs Run DMC
Whoomp There It Is – DJ Smerk Samir's Theme Edit vs Tag Team
My Mind – Cazztek + MASTERIA
Gold On My Crown – BROHUG ft Born I
Turnin' Me On – Spryte Body Pop Edit ft Nina Sky.
>> Drum & Bass @ 01:26:30
Seen It All Before – Friction Remix ft Everyone You Know
Saviour – Dimension + Sharlene Hector
Gammy Elbow Dust – DJJD Mashup ft DJ Zinc x Chris Lorenzo Vs DJ Fresh
Original Nutta DUBPLATE – Shy FX + UK Apache.
Like these sounds? Check out the latest albums available now.
To download the mp3 file, for any of these podcasts – using the podomatic player below, click on the download icon next to the heart, and follow me buttons in the footer. Then you can take the podcast anywhere you go, just copy onto USB stick, SD card, or mp3 player – without eating up your valuable data. (best downloaded on computer / laptop)
Got an Iphone, Ipod or Ipad? Download the 'Podcast' app – search 'DJ Richie Don' in #Itunes and subscribe to receive future episodes automatically for free.
————
#djrichiedon #podcast #jan #feb #march #april #may #june #july #august #september #october #november #itunes #december #mixcloud #podomatic #richie #don #house #garage #grime #bass #future #deep #rnb #dnb #bassbox #top5bangers #xmas #christmas #2018 #podcast #apple #music #radio #news #marketing #podcasts #listening #episode #house #bass #festival #urban #thanks #show #instapodcast #instalove #djrichiedon #mixing #pioneer #serato #djlife #facebooklive #seratodjpro #march