Here you can access all of Richie's latest Podcasts, just choose your preferred platform:
Download the podcasts 'app' via the app store. Search DJ Richie Don (or click here) and subscribe, to automatically receive future episodes first, for free.
Podomatic make it extremely easy to download the MP3 file to save onto SD card, USB or burn to CD. A great way to access the episodes without Itunes.
 Mixcloud has an easy to navigate app, great for both iphones and android devices. Mixcloud also partners well with streaming services, such as Sonos.
———————————————–
For the latest #djrichiedon #February #2018 #Podcast #137:
>> CLICK HERE TO DOWNLOAD MP3 <<
or click on the image below: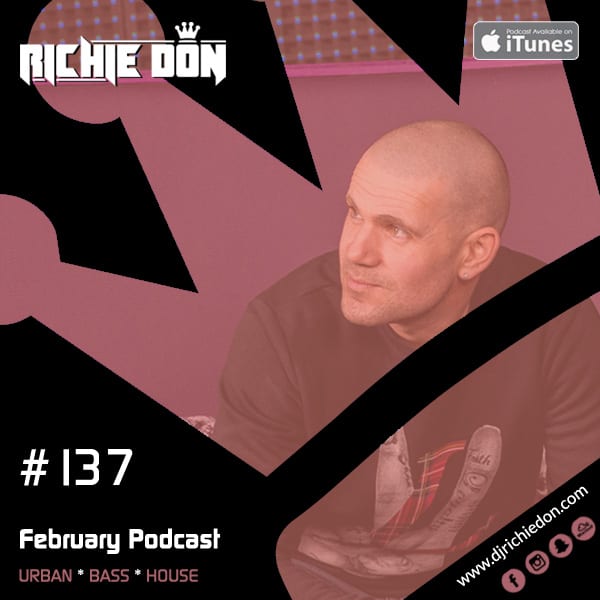 Stream this episode via Mixcloud:
Watch this podcast mixed live on Facebook:
Track Listing and Artists Featured:

Celebration – Barry Harris vs Three Dog ft Kool n The Gang
We Run This – Tall Boys ft Missy Elliot
Get Busy – GESES Mi Gente Bootleg ft Sean Paul
Cola – Doug Forbek n Jon Costa ft CamelPhat n Elderbrook
Let's Go Together – Joe Stone
New Rules – Cantaffa n Royd ft Dua Lipa
Pancake – ID
In Da Club – Sidtrus Remix ft 50 Cent
Forever Remix – Sigma ft Tinie Tempah n Quavo
Ignition – Benzi Try Me Bootleg ft R Kelly
>> Urban:
Bad n Bougie Bootleg – Steel Bangelz ft Yungen, Migos n Not3s
Barking – Ramz
Unsigned – Hardy Caprio n One Acen
Single Ladies – Freejak Shape Of You Edit ft Beyonce
Remember The Time – Skratch Bastid Finesse Blend ft MJ
Finesse Remix – Bruno Mars ft Cardi B
> Open The Bass Box:
Antigone – Habstrakt n Dombresky
Natural Blues – Showtek n Moby
If You Really Wanna – Cazztek ft Kiyoshi
House Beat – Chusap
Riverside Reloaded – Tujamo n Sidney Samson
A Sky Full Of Stars – Control-S Remix ft Coldplay
River – Charlie Lane Remix ft Eminem ft Ed Sheeran
No Diggity – Luke S Remix ft Blackstreet
Got Your Money – Charlie Lane Remix ft ODB n Kelis
Finesse – James Hype Remix ft Bruno Mars n Cardi B
Gonna Make You Sweat – Starvos Martina n Keven ft CnC Music Factory
Shape Of You – Jack Wins Remix ft Ed Sheeran
Let It Ring – Damien N-Drix n STV
>> Festival Flavours:
The Groovy Cat – PAWSA
Be Sharp Say Nowt – Patrick Topping
Renegate Masta – Wasabi ft Sugar Hill
Let Me Think About It – Fedde Le Grand ft Ida Corr
Music Is The Answer – K. K.
Gypsy Woman – Homeless ft Bougenvilla, Jared Hiwat
Let Me Be Your Fantasy – Paul Morrell Remix ft Baby D Vs Paul Morrell
Mans Not Hot – Phibes Remix ft Roadman Shaq.
Like these sounds? Check out the new CD's available now.
Got an Iphone, Ipod or Ipad? Download the 'Podcast' app – search 'DJ Richie Don' in #Itunes and subscribe to receive future episodes automatically for free.
————
#djrichiedon #podcast #jan #feb #march #april #may #june #july #august #september #october #november #itunes #december #mixcloud #podomatic #richie #don #house #garage #grime #bass #future #deep #rnb #dnb #bassbox #top5bangers #xmas #christmas #2018